SAMAYA PITTA HYDRATING CLEANSER: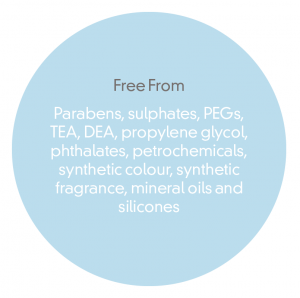 A unqiue formulation providing hydration while cleansing and purifying skin. Develped with powerful Ayurvedic botanicals such as Jasmine, Neem, Lotus, Turmeric, Saffron, Shatavari and Gotu Kola, this cleanser melts into the skin, helping to remove make-up and lift impurities, leaving skin feeling balanced, purified, softer and more radiant.
Key ingredients and benefits :
Jasmine Flower Extract
Beautiful aroma with proven mood-boosting effect; improves energy; reduces anxiety and stress; helps to balance moisture levels and increase skin's elasticity while soothing mind and body; antibacterial and anti-inflammatory properties help protect skin.
Neem Oil
Promotes skin healing; helps reduce itching and roughness; purifies skin; neutralises damaging free radicals to help skin achieve a radiant glow.
Saffron Extract
Valued for its skin toning abilities; can impart a natural radiance as it helps to reduce pigmentation; has mood-enhancing properties; is considered to be an aphrodisiac and is often used as a tonic to improve general health.
Lotus Seed Extract
Sacred anti-inflammatory ingredient; contains zinc and anti-ageing enzymes which can repair damaged or sensitive skin while soothing and calming the mind; beneficial for blemish-prone skin.
Honey
Known as 'Madhu' in Ayurveda, honey has long been used to heal and soften skin. Its antioxidant qualities help it to restore damaged skin. Our honey is sourced from European wildflowers.
Shatavari Extract
Considered in Ayurvedic tradition to be the female equivalent to Ashwagandha, Shatavari's name in Sanskrit translates as 'she who possesses one hundred husbands.' It has long been used as a tonic for female health concerns and as a means of reducing stress and tension. Shatavari also has nutritive and rejuvenative properties for skin, contributing towards a renewed, youthful appearance.
Saccharide Isomerate
A 100% natural, plant-derived, effective and long-lasting active moisturising ingredient; provides sustained hydration; protects against future damage; restores and replenishes skin.
Gotu Kola Oil
Anti-inflammatory and anti-ageing herb; helps fight chronic skin conditions by repairing damage done to the skin; stimulates collagen production in the skin.
Aloe Leaf Extract
Antibacterial, anti-ageing ingredient; soothes and promotes healing; hydrates skin; contributes to the natural production of collagen and elastin in skin.
Characteristics of Pitta Dosha :
Well-proportioned and compact build, with a focused mind and a love of order. Confident and passionate, enjoying challenges. Prone to anger and impatience when out of balance. Benefits from gentle skincare as skin can be sensitive and irritable, susceptible to wrinkles, sunburn and inflammation.
Use: Massage onto dry skin. Rinse off with warm water or with a damp muslin cloth. The cleanser washes away as a milky emulsion, leaving skin feeling deeply cleansed and sumptuously hydrated.
Weight : 100ml